Health and Safety in a Veterinary Practice: UK
Guidance
The Health and Safety at Work etc Act 1974 sets out the responsibilities of all employers in the UK regarding the health, safety, and welfare of employees, self-employed, volunteers, casual workers, clients, and members of the public that spend time on the premises. 
While there isn't a specific Health and Safety at Work Act 1974 veterinary practice manual, there are sources for guidance on veterinary health and safety, and governing bodies that can help you make sure your practice is safe and compliant.
In this article, we'll cover some of the core fundamentals of health and safety in veterinary practice settings, and provide links to governing bodies that can help you keep your practice on the right side of the law.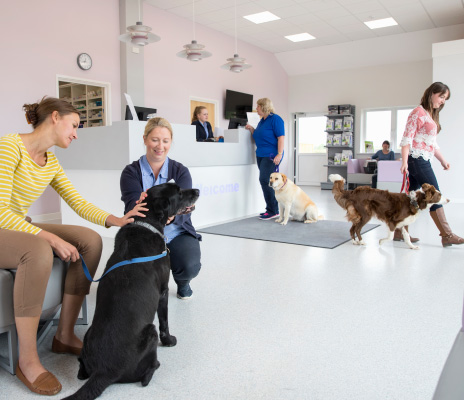 Health and Safety Facts in a Veterinary Surgery
The HSE basics for health and safety compliance set out straightforward guidelines on what needs to be considered in the workplace. Here's how these basics might apply to veterinarians.
Appoint a Competent Person 
The competent person in your practice should have the knowledge, skills, and experience to identify health and safety hazards. They will be the central point of call for all matters to do with health and safety. Your Infection Control Nurse could fulfil this role.
Consult Your Workers
Your staff will need to be fully trained on your health and safety protocols. Keep all health and safety protocols in a handbook together with your biosecurity policy and consider putting signage up around your practice so these procedures are always visible.
First Aid in Work
The HSE recommends that you should have a fully stocked first aid kit at all times. Make sure your staff have access to a workplace first aid kit such as our veterinary first aid kit.
Steroplast also offers animal first aid kits that are useful to keep in the car or take out on remote visits. This is also a good first aid kit for pet owners to keep at home in case of emergencies. 
Keeping your practice well-stocked with vet clinic essentials, cleaning supplies, and other everyday necessities plays a big part in keeping staff and visitors safe and reducing the risk of infection.
The Law
Find out about civil and criminal law to protect your staff and everyone else you have a responsibility towards. 
Prepare a Health and Safety Policy
The health and safety policy should set out your general approach and specify who does what, when and how. A health and safety policy is similar to a biosecurity policy that you need to create to manage infection control. You should keep them both together so your staff can access both quickly when they need to. 
Provide Information About Training
It is the job of the Competent Person to ensure all staff have access to training.
Display the Health and Safety Law Poster
Keep the HSE Health and Safety Law poster in your clinic where all staff can see it, or provide everyone with a leaflet containing the information. 
Report Accidents and Illnesses
See below for accidents, occurrences, and illnesses that vets must report and which governing bodies they need to be reported to.
Conduct Risk Assessments
In accordance with Health and Safety at Work Regulations 1999, vets must identify potential injury or illness hazards, determine the likelihood and degree of harm, and take action to eliminate or control the risk.
You may already be familiar with conducting risk assessments to put infection control procedures in place. Find out everything you need to consider for a veterinary clinic cleaning protocol, and which veterinary cleaning products should be used. 
Provide the Right Workplace Facilities
Toilets, washbasins, running water, drinking water, rest areas. The workspace should be clean and tidy with good ventilation, suitable lighting and enough space for people to work.
Business Insurance
Find out about Employer's Liability Insurance and make sure your clinic is covered. 
Reporting Major Injuries, Dangerous Occurrences, and Adverse Reactions
In veterinary practice, certain major injuries, occurrences, and reactions to medicines or procedures need to be reported to specific governing bodies to protect animal health, human health, and the safety of the environment.

Major Injuries and Dangerous Occurences
Vets must report to RIDDOR (The Reporting of Diseases & Dangerous Occurrences Regulations 1995) in instances under three categories:
Major accidents or fatal accidents in humans

Three-day accidents in humans

Dangerous occurrences 
Major or fatal accidents involve fracturing the skull, spine, or pelvis; fracturing a long bone in a limb; amputation; loss of sight; and other accidents that lead to hospitalisation for longer than 24 hours unless only detained for observation.
Three-day accidents are any accidents that result in three or more days absence from work.
Dangerous occurrences should be reported whether or not they have led to an injury or illness. Dangerous occurrences include the explosion of a steriliser or a gas cylinder; uncontrolled release of a hazardous substance; uncontrolled release of a substance that could lead to problems resulting from inhalation or from lack of oxygen; cases of acute ill health suspected to be a result of exposure to pathogens or infectious material; and accidental ignition or explosion. 
Adverse Reactions
Adverse reactions to medicines should be reported to the Veterinary Medicines Directorate, with a copy of your report also being sent to the manufacturer or license holder for the medicine in question. Adverse reactions are any side effects that aren't reported. Adverse reactions can fall into six classifications:
Dose-related

Non-dose-related (idiosyncratic)

Dose and time related (chronic)

Time-related (delayed)

Withdrawal

The unexpected failure of therapy
Veterinary Waste
Veterinary waste, the vast majority of which is classified as hazardous waste, poses a risk to people and the environment and needs to be disposed of responsibly. Under The Environmental Protection Act 1990, veterinary practices have to follow certain legislation when managing and disposing of waste to minimise risk to people, animals, and the environment. This is called 'Duty of Care'. 
Under The Controlled Waste Regulations 1992, clinical waste is classed as a type of controlled waste that must be handled and disposed of with care.
Veterinarians also must obey The Hazardous Waste Regulations 2005 which requires vets to identify hazardous waste and securely store it separately from non-hazardous waste to avoid cross-contamination.
A yellow biohazard waste bag not only keeps your practice compliant, it clearly signals its content classification to waste collection teams, making waste collection and disposal safe and efficient. 
In order to follow hazardous waste laws, sharp objects must be stored securely to prevent compromising the biohazard bag with rips or tears. Sharp objects like needles must be put into a sharps bin before being disposed of into a yellow waste bag.
Resources Relevant to
Health and Safety Legislation in Veterinary Practice
| | | |
| --- | --- | --- |
| Health and Safety Consideration | Legislation | Authority |
| Health and safety at work  | | HSE |
| Veterinary duties to people, animals, and the environment | | Royal College of Veterinary Surgeons |
| Fire precautions  | | Local Fire Authority |
| Manual handling and heavy lifting  | | HSE |
| Hazardous Substances | | HSE |
| Pollution | | Local Waste Authority |
| Environmental Protection  | | Local Waste Authority |
| Waste Classification  | | Local Waste Authority |
| Special Waste Regulations  | | Local Waste Authority |
| Hazardous Waste Regulations | | Local Waste Authority |
Health and Safety in a Veterinary Practice: UK Guidance 
Watch our video below on health and safety in a UK veterinary practice: 
Please enter your details into the form below along with any questions or comments and a member of our team will be happy to provide you with more information: