Biohazard Waste Bags: Definition
and Guidance
Biohazard waste bags are important for making sure that potentially dangerous waste material is disposed of properly and doesn't end up hurting people, animals, or the environment. 
Commercial Businesses in the UK have a 'duty of care' to uphold certain responsibilities for minimising the volume of waste that goes to landfills, sorting and storing waste, working with a legitimate waste disposal company, and retaining proof of responsible biohazardous waste disposal. You must do these things under the Environmental Protection Act 1990 and failure to comply could lead to prosecution.
So, what is a biohazard bag? In this article, we'll offer a biohazard bag medical definition, and clarify what a biohazard bag should be used for.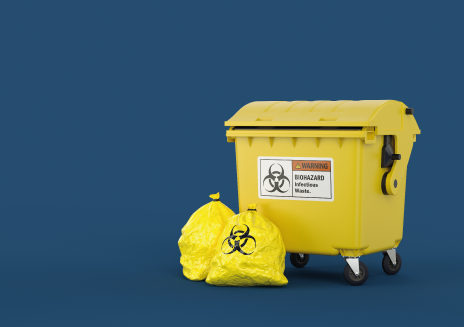 Biohazard Bag Definition:
A bag is used to dispose of biohazardous waste material that is potentially infectious or could be a threat to people's health. Biohazard waste bags come in different colours to help waste disposal teams identify the type of waste inside and how to dispose of it.
What is biohazardous waste?
Biohazardous waste is any biological waste that has the potential to harm someone if they come into contact with it through disease or infection. This could be body fluids or tissues, or materials contaminated with body fluids or tissues.
What counts as biohazardous waste material?
The following are types of materials that count as biohazardous waste:
Body fluids: blood, urine, faeces, saliva, mucus, semen, vaginal secretions, vomit.

Blood transfusion bags, IV tubes, suction canisters.

Cultures and

lab waste

that may be contaminated.

Waste produced in rooms housing patients with infectious diseases.

Used vaccine vials.

Animal remains and waste, and waste from

veterinary procedures

.

Pathological waste from procedures like biopsies and amputations.

PPE such as gloves, aprons, and masks.

Cleaning materials contaminated with potentially infectious waste like swabs, tissues, gauze, and bandages.

Sharps waste like needles and broken glass (this should be put into a

sharps bin

before going into a biohazardous waste bag).
The UK government waste classification guide specifies what types of medical waste are hazardous and non-hazardous.
Who produces biohazardous waste?
Not only do hospitals and veterinary clinics produce biohazardous waste. Biohazardous waste can be produced anywhere humans can be found. This is why all businesses need to have at least one biohazard spill kit ready for use. Here are some other businesses that deal with biohazard waste regularly:
Opticians

Podiatrists

Residential homes and care homes

Doctors' surgeries

Schools

Pharmacies

Tattooists and body piercing salons
In addition to these, restaurants, shopping centres, bars, daycare centres, airports, and waste management facilities are likely to face a biohazard from time to time. If there are staff and customers at your business, you should provide access to a biohazard spill kit.
Biohazard spill kits aren't the only piece of health and safety equipment businesses need to provide access to. Make sure your business is compliant with health and safety laws with a British Standard workplace first aid kit and prepared for any eventuality with a public access trauma first aid kit.
Biohazard Waste Bags: Definition and Guidance
In this video, we'll offer a biohazard bag medical definition, and clarify what a biohazard bag should be used for. 
Please enter your details into the form below along with any questions or comments and a member of our team will be happy to provide you with more information: