If you thought Dodgeball was simply a comedy starring Vince Vaughn and Ben Stiller, you'd be wrong. It really is a professional sport. In fact, it's one of the fastest growing sports in the UK. And, it's currently thriving in the North West, thanks to the Manchester Bees.
The Manchester Bees Dodgeball Club was established in 2013. They're a mixed gender club, set up by ex-University students. All with years of experience coaching and playing the sport at an international level. The club has over 70 members, fielding 3 Male, 2 Female, and 2 mixed teams in the National Leagues. With an additional 2 teams in the local City League.
In fact, the Bees are the first dodgeball club to achieve the Clubmark Award – the universally acknowledged cross sport accreditation scheme for community sports clubs. The award celebrates the club's standards of welfare, equity, coaching and management. This success is mirrored on the court, where they have won the Northern Championships. Manchester Club of the Year, and many more accolades.
How to play Dodgeball
"Dodge, Duck, Dip, Dive and Dodge!"
Well, there's much more to it than that. Don't worry. Here's our brief outline, you can see the rest for yourselves.
Most importantly, winning. To win the game, your team must eliminate all members of the opposing team. There are no points to be scored, it's all about eliminating your opponent's players. This, however, can be done in a few ways. The main way is by hitting your opponent with a ball. Although, if they catch your throw, you're out! The catcher also gets the added incentive of reinstating a member of his team previously eliminated.
There are many more rules to the game that the Bees will talk you through in their social sessions. Such as, you can use a ball to deflect shots, bouncing hits don't count, you cannot cross boundary line, etc etc etc.
Steroplast and the Manchester Bees
Steroplast had the honour of presenting 'Club of the Year' at the Greater Manchester Sports Awards. At the ceremony, we had the opportunity to meet the Manchester Bees. We also found out that this year was their 6-year anniversary. So, we thought we'd attend one of their open classes and try dodgeball for ourselves.
We assembled the Steroplast Average Joe's to take on the sport. Andrew, Adrian and Paul - all newcomers to dodgeball - attended the Bee's Social Skills Session at Trinity Sports Centre.
The session began with a short/hilarious bonding exercise, then onto warm-up some routines and stretches. Everyone member was so friendly, walking newcomers through the rules of the sport and different techniques at their pace.
After some very professionally organised throwing and catching drills, we were ready for a game – or so we thought! This is the point we realised that this game isn't just throwing and catching. Dodgeball is a high-intensity, rapid fire sport that keeps you on your toes until the end. The Manchester Bees have some amazing players, that make the sport look easy, whereas Andrew, Adrian and Paul just tried to stay in the game.
How you can try Dodgeball for yourself
If you're thinking dodgeball could be for you, or you would like to give it a try, then what's stopping you?
Drop in to the next Social Session. These take place every Thursday 8pm to 9.15pm, at the Trinity Sports Centre. The bonus being - the first session is FREE!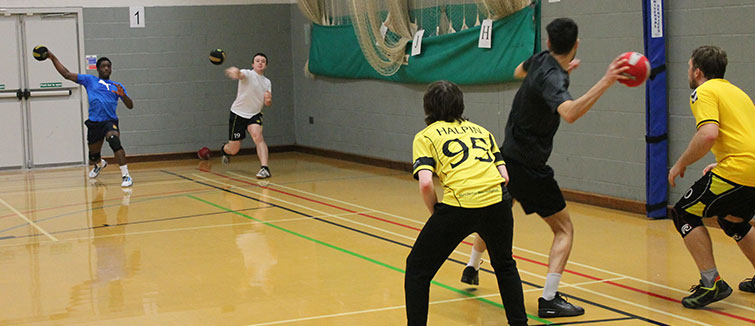 If you enjoy it, there's lots more dodgeball on offer from the Bees. Members also play on Tuesdays, Wednesdays and Thursdays. There is also a Manchester Bees Academy for 7 to 18-year olds, this takes place on Mondays 6-7pm at Trinity. If you want to play for the team, City League games are on selected Monday nights and National League games are at weekends.
Still on the fence?
Don't think you can throw the ball hard enough - It's dodgeball, not throw ball
Unsure if you'll make the team - You can still be a member and attend all the classes
Think you'll struggle to fit in – Dodgeball is for all ages, genders and abilities
Looking for a new fitness regime? Dodgeball is great cardio, it will improve agility, balance, hand-eye co-ordination and really work your shoulders, back and arm muscles.
If you can dodge a wrench, you can dodge a ball! Patches O'Houlihan*
For more information you can visit the Manchester Bees website. If you'd like a more detailed look at the rules or to find your local club visit the British Dodgeball website.
Alternatively, if you'd like to watch a game, before you get involved. Your perfect solution is the upcoming Atlantic Cup. This will be taking place on the 20th April. 4 teams (Great Britain, Austria, Canada and Team USA) will be competing for the cup. This will all take place at Platt Lane Sports Complex.
Andrew, Adrian and Paul were all a little bit achy the next morning to say the least. However, it was a resounding success and they loved every moment of it. If you're a sports club or team and would like to invite them down, they'd love to take part and you could be our next blog. Email marketing@steroplast.co.uk with details.
*There will be no wrenches involved in any games or classes